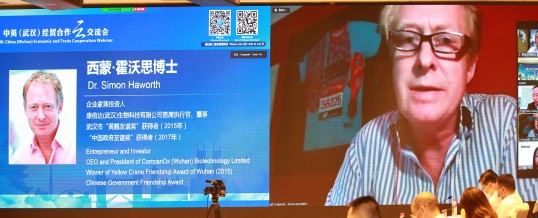 The China Britain Business Council (CBBC) coordinated an important event this week: a digital conference Chaired by the Mayor of Wuhan Zhou Xianwang, British Consul-General Gareth Hoar, CBBC Chief Exec Matthew Rous and an experts panel made up of Laurence Huang VP of AstraZeneca China, Ying Jiang Asia-Pac President of Deloitte, Zhiqiang Zhang Global VP of BP, Song Zhang GM of ThoughWorks China and Dr Simon Haworth Director of CompanDX/intellomx, Team Kapital, DynastyBio and the Sino-UK Fund.
Mayor Zhou outlined progress and activities in Wuhan, with supporting remarks from CBBC CEO Matthew Rous and British Consul-General Gareth Hoar. The it was time to hear from business leaders from the most important British companies to engage with Wuhan. See full conference Agenda below.
Speaker panel: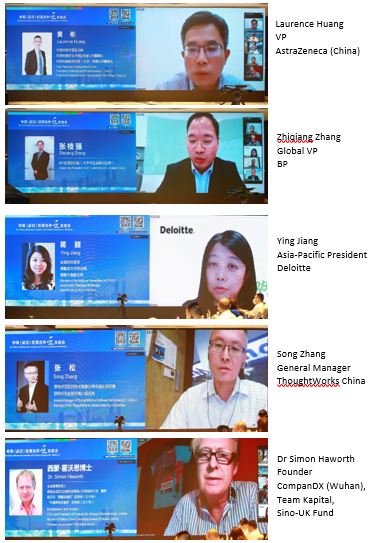 Input from panelist Dr. Simon Haworth:
Good afternoon Mayor Zhou, Director Hu, Vice Mayor Xu, CBBC Chief Executive Matthew Rous and of course Consul-General Gareth Hoar. Good afternoon everyone, and welcome to my study at home, just outside Cambridge.
Right now, I am involved in three Wuhan projects:
an artificial intelligence company, with a subsidiary in Wuhan, dedicated to life sciences;
a Wuhan-based fund that is about to start investing in UK companies that come to China and
an advisory business that is helping UK companies engage with China for the first time.
My colleagues have made great presentations and said much of what can be said about today so I would like to look forward to tomorrow – to the future.
So what role could Wuhan play? Let me give you two examples to illustrate my thinking on this:

Firstly our AI company subsidiary in Wuhan, called CompanDX*, is working with Wuhan Pulmonary Hospital on a tuberculosis diagnostic. But it is not a single-product company. The company has invented a powerful platform technology with broad application working on cancer, on diabetes, on autoimmune disease and other areas and we hoping to start work on an analysis of breast cancer data with Tongi Hospital before the end of the year. [*CompanDX is a subsidiary of the UK's Intelligent OMICS Limited www.intellomx.com]
There are many such AI companies in the UK and these partnerships between UK companies with advanced technology and the outstanding medical institutions in Wuhan can generate a flow of new medicines with global importance.

Secondly the advisory business called Team Kapital is talking to an increasing number of UK life sciences companies about China right now. What is interesting is that the size of company we are talking to has increased significantly over the last few weeks as well as the number of companies. It is still shocking to me that many of these companies have no ongoing connection with China, despite international operations across Europe and America. But now they want to talk. "Is it time for us to review our China Strategy?" they ask.
The answer to that is obvious. Every single UK life sciences company needs to have a proactive China strategy. And every one of those needs to consider Wuhan as its entry point into China.
Personally I don't believe that Wuhan yet understands how many companies could come to Wuhan from the UK. And I don't believe that Wuhan realises how little UK business executives know about doing business in China. In terms of the scale of the opportunity, if we look at Cambridge alone our assessment is that approximately 50% of Cambridge companies have a major contribution to make in China and should be working with China. Right now, however only approximately 6% of Cambridge companies have any China connection. The scale of the opportunity for Wuhan is vast.
The current virus issue is extremely important, but temporary. Many international leaders agree that it is China's turn to taking a leading role in the world. Wuhan, with its extraordinary ecosystem at Wuhan Biolake, its world-leading hospitals, its incredible graduate population and its role as a communications hub put it in the top position to drive the growth of international engagement in China.
My family has been connected with China for over 140 years now, and with Wuhan for nearly 60 years. We are not going to step back from our Chinese friends now and I hope that we can work much more closely with the Mayor and his team to bring UK companies to my second home.
Thank you everyone. I would be pleased to hear from any UK or Wuhan companies interested in engaging – either with me or with my team in Wuhan – and we look forward to speaking with you.
Click here for link to Chinese TV reporting (Mandarin only): TV coverage: Han News